Alvin and the Chipmunks The Movie

[See pictures and read about the Chipmunks Voice Actors below]
Alvin and the Chipmunks. On the big screen. Rendered as 3D animation and live action! People love Alvin and the Chipmunks have been waiting a long time for this movie. It was worth the delay, because this movie is special - Alvin and the Chipmunks has soul.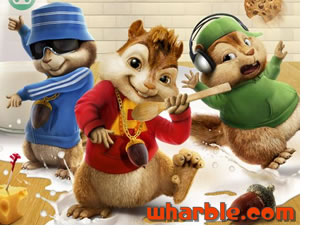 This is a movie about three cute little chipmunks, better known to the world as the singing, dancing and talking Alvin, Simon and Theodore. The popular Chipmunks antics are known around the world. They have records (vinyl, CD, mp3), they have TV shows (originally shown in black and white), movies, videos, stuffed animals - and more! But above all, Alvin and the Chipmunks have heart. Unlike a lot of kids movies, Alvin et al have always had a distinct sweet, lovable and trouble-making personality that connects with you. In the movie, the Chipmunks have been lovingly handled and the charm that people remember from years ago has been translated to the big screen. The Chipmunks are back and they're better than ever.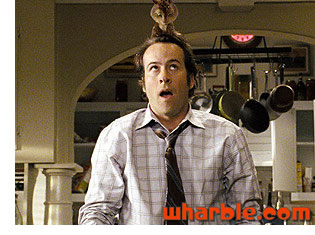 Alvin and the Chipmunks the movie tells the story of how the Chipmunks meet Dave Seville (played by Jason Lee), who eventually becomes their manager and father figure. Dave is struggling songwriter who is helped by the Chipmunks, who write the song "Witch Doctor" for him. They team up and the Chipmunks are eventually tempted by Ian (David Cross) an unscrupulous Hollywood-type who promises them everything, allows them to do be irresponsible, and even gives them caffeine to keep them awake and performing. Will the Chipmunks return to Dave and a more normal life? Watch the movie and see.
Jason Lee does a fine job as Dave. Lee brings warmth to the character - you end up liking him. David Cross is excellent. Cross is an actor and comedian who understands how tough showbusiness is, so he is perfect for his role as a music agent. He has a talent for playing amoral people, and making them real. He elevates this film, by making his character so likeably unlikable. (In many ways, this humor is absolutely no different than his work on Mr. Show with Bob and David or Arrested Development - it's dry, tongue in cheek, and done straight - and it works really well). David Cross shines in this movie. The Chipmunks are voiced by Justin Long (Alvin), Matthew Gray Gubler (Simon) and Jesse McCartney (Theodore). Originally, the Chipmunks were voiced in the movie by Ross Bagdassarian Jr., who has voiced every incarnation of the Chipmunks with the exception of when his dad Ross Bagdassarian Sr. voiced them. It is rumored that the original vocal tracks featuring Bagdassarian Jr., not the Hollywood actors Long, Gubler and McCarney are actually used in part or throughout the movie. Listen - it would be hard to tell!
2007's Alvin and The Chipmunks was a huge success and a sublime treat of a movie. Bring on the squeakquel!
The Voice Actors for Alvin & the Chipmunks: The Movie
ALVIN
Voiced by Justin Long

Justin Long is best known as a Macintosh from a series of commercials that compare Apple and Windows PCs. Justin was born on June 2 1978, and started acting in 1999. He has performed in advertisements, television and movies steadily. Justin's most famous appearance, aside from his advertising work, is alongside Bruce Willis in the Die Hard movie "Live Free or Die Hard".

Justin dated Drew Barrymore for a time. If Justin Long is Alvin, then does that make Drew Barrymore the Chipette, Brittany?
SIMON
Voiced by Matthew Gray Gubler

Matthew Gray Gubler was born March 9, 1980. He is an actor, director, former fashion model and the voice of Simon from Alvin & the Chipmunks.

He is best known for his role in the CBS TV show, Criminal Minds, playing the young genius Dr. Spencer. His film debut was in The Life Aquatic With Steve Zissou.

Matthew Gray Gubler has modeled for Tommy Hilfiger, Sisley, Marc Jacobs, Burberry, and Louis Vuitton.
THEODORE
Voiced by Jesse McCartney

Jesse McCartney was born April 9, 1987. He is a singer-songwriter, actor and the voice of Theodore from Alvin & the Chipmunks.

He was in the boy-band, Dream Street. He has been on many TV shows - All My Children, The Suite Life of Zack & Cody, Hannah Montana, and Greek - to name a few. He also voiced Jojo McDodd in Horton Hears A Who! and Terrence in Tinker Bell.
Alvin and the Chipmunks Collectibles For Sale...
Alvin and the Chipmunks Music, Alvin and the Chipmunks Movies
Alvin and the Chipmunks Toys, Alvin and the Chipmunks Collectibles and more!