The Far Side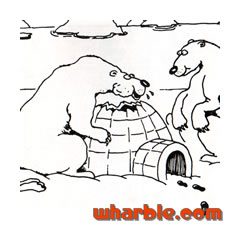 The Far Side is a world of wonder, a world of talking cows and a world of extremely ugly babies. The Far side is also a one panel comic written by Gary Larson. Larson's cartoon ran from 1980 to 1995 - an amazing fifteen years. The Far Side, along with Calvin and Hobbes, is one of the most influential comics of the 20th century.
The Far Side is a world like ours, except that people are a little bit uglier (or ugly in a different way, perhaps). There is definitely a 1950s vibe. And, of course, animals talk. There are lots of cows. But one thing is certain - it's a hilarious world, a world in which you sometimes feel guilty for laughing - something you will do a lot of - unless of course you're one of those people who don't get the joke.
Larson is unique in the world of modern cartoonists in the access - and explanations - he provides to the reader. In some of the anthologies and books, Larson provides detailed early sketches and drawings, along with explanations as to how the comics evolved. The reader can see how the early sketches had "life" that even the finished product lacked, and how difficult (and magical) a process it was to get his ideas down on paper. We also learn that Larson does "get" how strange and odd some people see his work to be - and he seems a bit apologetic at times (the only thing that is "odd" is the fact that Larson is apologizing for some of his brilliant creations). One particular story Larson recounts is how he has a friend named Ernie that will call - rarely - and tell Larson how much he enjoyed a particular cartoon. Larson then goes on to say that he knew he was in tremendous trouble, because his friend was a bit of a freak and therefore the "normal" comic reading population was guaranteed to be offended.
Gary Larson certainly courted controversy, or at least confusion. Many cartoons centered on themes that many people found disconcerting - but the jokes were too funny for Larson not to put them to paper. It was his duty to get those thoughts out to the public, and he knew there would be a cost. And there certainly was - he was constantly getting letters from readers, editors, publishers all expressing outrage or condemnation. Larson actually takes the time to address these criticisms in his books, and often with amazing patience. I suppose "the maestro is decomposing" is going to garner a few letters, but it is amazing that Larson takes the time to respond.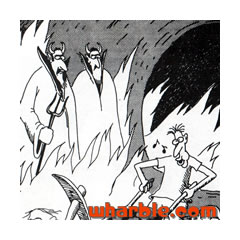 In addition to the comics, Gary Larson also sold calendars, day calendars, book collections, and even two TV specials (1994's Tales from the Far Side and the 1997 sequel).
Larson has slowly weaned the public off of his calendars and books. For charities or other purposes he can be coaxed occasionally back to coloring his old black and white cartoons, but it appears that he is on indefinite hiatus - although he isn't as absolutely tight lipped as some other authors (like Calvin and Hobbes' Watterman) regarding his work - he's simply done, for now at least. He still pops up now and then - in 2003 he illustrated the cover for The New Yorker magazine. The Far Side reruns are still printed in many newspapers around the world, and of course there are huge collections of books available (23 so far), including the magnificent two-volume hardcover The Complete Far Side collection. The Far Side has never really left us - just pick up one of the books and you'll soon be transported back to the wonderful world of "cow tools" and naughty snakes.


Far Side Books & Collectibles For Sale...
Far Side Books, Far Side Toys,
Far Side Collectibles, Far Side Mugs and more!