FoxTrot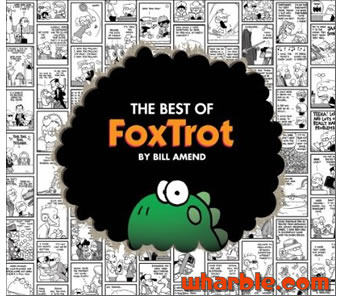 Foxtrot is the story of the humorous exploits of the Fox family. Written by Bill Amend, the comic strip ran daily from 1988 to 2006, and new comics are now published every Sunday. The family consists of the Dad Roger, the Mom Andy, and the kids, Peter, Jason and Paige. The comic is timely, topical... and funny.
The Fox family live in a two story house. Jason is a bit of a nerd, uses computers, plays roleplaying games, and has a pet iguana named Quincy. Jason's best friend and classmate is Marcus. Paige's friends and the Dad Roger's friends are featured in the strip as well. FoxTrot is basically the story of the modern nuclear family, their trials and travails and features all of the little details that make up modern life. The family use computers (similar to the Macintosh, called an iFruit) and play videogames (with titles that parody actual games). Life in the Fox household accurately mirrors modern real life.
The comic is very inclusive - Peter's girlfriend, Denise, is visually impaired, and Jason's best friend is black - the comic, while lighthearted, does accurately represent the modern spectrum of life in America. There are lots of little gems placed within FoxTrot. Look at the crowd scenes (when there are lots of people in the background) - notice anything? Yes, indeed, characters from other comic strips occasionally show up, particularly Calvin from Calvin and Hobbes. FoxTrot is very topical - it's a great mirror to popular culture. Star Wars, Star Trek, role playing games, computers and technology - whatever is current at the time makes its way into the strip and often serves as a great time capsule as well when you go back and read the books years later. Also of note is the humorous branding used in the comic. Hummer isn't Hummer - it's Humbler. an iMac isn't an iMac - it's an iFruit! There are endless humorous wordplays used for products in FoxTrot, and it's fun to scour the books for references to them.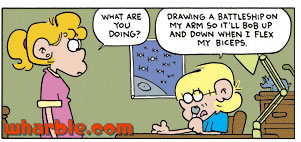 FoxTrot is very popular comic because it tends to connect with viewers in a heartfelt way. Because family life is portrayed so lovingly, it is easy for the reader to feel like they're a guest in the Fox home - which is really a nice place to be. The comic has succeeded as well because it is not saccharine - the author Amend actually studied physics, which brings a nice left / right brain balance to the strip. As well, the reader can see that the author is quite fond of the nerdy Jason - Amend is poking fun at himself to some degree. Ultimately, FoxTrot is an above-par comic because it's nice to read good-natured stories in a world that is filled with endlessly ironic and cruel humor. FoxTrot may occasionally be biting, but it never hurts.
FoxTrot is still published every week and the comics are available as books and treasuries.
A note to Mr. Amend: We here at Wharble.com are big fans of your work and appreciate the years you've put into the strip. If you read this, we just want to say "thanks" for all the great comics!
Foxtrot For Sale...
Foxtrot Books, FoxTrot Treasuries,
Foxtrot Collections, Foxtrot Collectibles and more!